Loss of active volume due to sediment build up, is a major cause for reduced revenues from anaerobic digester AD assets. Grit and sediment accumulate within digesters at varying rates and can account for up to 5% loss of digester volume pa which in some cases can equate to losses of >£100k per annum.
New regulatory drivers from the EA, also mean that monitoring sediment build-up is an annual requirement for all new IED permits as well as for permits up for renewal.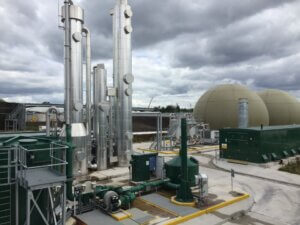 Reduced active volume limits the capacity for sludge processing and ultimately the achievable methane yields. The main causes of reduced capacity are related to upstream grit removal and also the mixing efficiency within the digester.
The biggest challenge lies in the limited means of assessing grit accumulation and mixing performance within a closed system such as an anaerobic digester that can provide a robust, reliable and quantitative assessment of these key parameters.
Over the years the lithium tracer test has established itself as arguably the most effective tool for quantitatively assessing the mixing efficiency, active volume and proportion of short-circuiting within an anaerobic digester.
Whether the purpose of the test is to; justify spend on de-gritting or upgrading mixing systems to improve methane production; assess tank conditions against contractual requirements following refurbishment of old or commissioning of new AD facilities; demonstrate regulatory compliance with annual tank capacity and sedimentation assessment requirements; the tried and tested approach is the same.
How Is It Done
Lithium is pulse dosed into the digester and samples are routinely collected to develop a washout residence time distribution (RTD) curve. When combined with site flow data, the model described by Levenspiel is applied to quantitatively partition the digester contents into flow (Q1) to the completely mixed active volume (VA), the inactively mixed proportion (dead zone), and the proportion of sludge feed that by-passes these two components to the digester outlet (short-circuiting, Q2). Sampling is required over 3 x theoretical HRT's to acquire the data necessary to develop the RTD curve.
With over a decade of experience working and perfecting the lithium tracer test, we will be happy to answer any queries on the process and how it can be best employed to enhance asset performance and revenues.